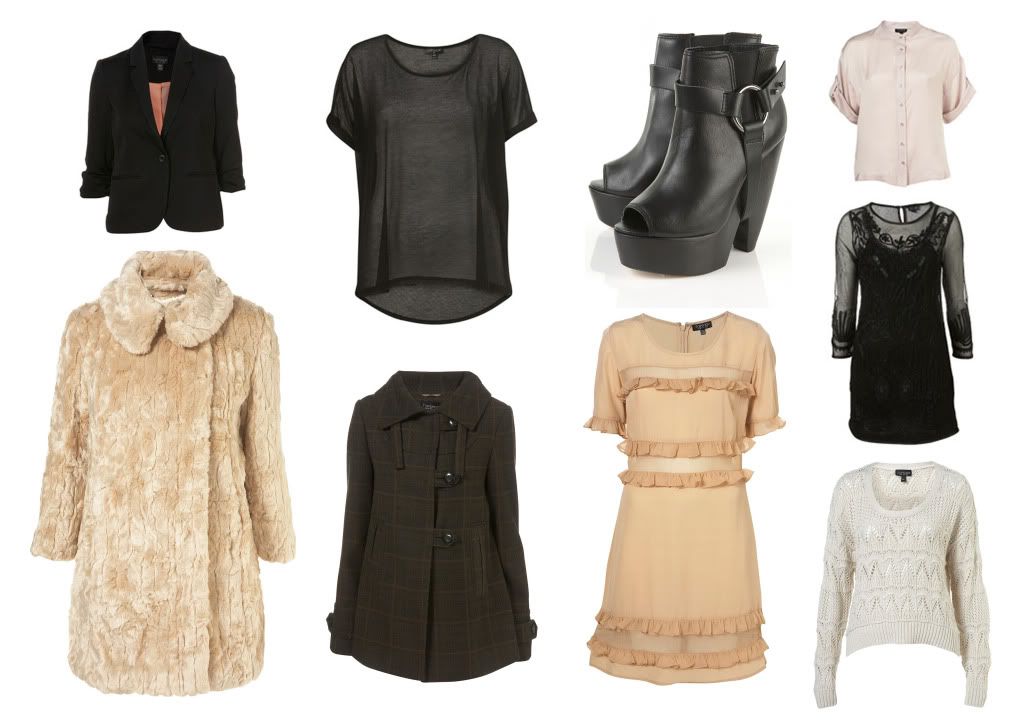 clockwise beginning left: ruched sleeve shrunken blazer, sheer airtex tee, andi clog stirrup ankle boot, short sleeved shirt, embroidered tunic, knitted crop jumper, ruffle shift dress, check swing coat, faux fur 3/4 sleeve coat
i'm going to go against widespread belief here but i really am not big on this seasons catwalk collections. many magazines are raving about how it's one of the best a/w's in a long time... i don't see it. which means it is then bizarre that i love topshop's collection this winter - seeing as i'm normally as massive on them as most!
i've been wanting some black winter boots - i'm not sure these shoe boots are really appropriate, but i love them anyway. except for the name! it is an inside joke with my best friend about my absolute loathing for clogs (she actually wanted some, but thank goodness got some fabulous surface-to-air style black strappy wedges in their place) and we have laughed many a time about high street stores trying to push for the even more hideous 'winter clogs'. (please, never buy these). however i saw these shoes before i saw the name - but after i found it out, i asked her if i could still like them? she said no XD. it is in my opinion that they are not related to clogs, because they are amazing.
so i'm still sticking to my usual ways with what i've picked - neutral colours, simple lines. some black kind-of-leather-looking shorts should have been on here too but the picture wouldn't show up :Z there's quite a few others as well - mainly big chunky knits - but they wouldn't fit on.
not that i will actually get any of this - maybe one, at a push two - but a girl can wish!